On Sunday 31st August 2014 we had a celebratory birthday ride for Felix. Baz collected Felix and they trailered their DRZ250s out to Tallaganda Forestry HQ on Lowden Road (LR), Rossi. As the trailer can only take two bikes I rode my DRZ250 out and they caught up to me as I neared the HQ around 10.40am. There were already a number of cars and trailers minus bikes parked there. And after helping to unload the other two bikes and the other two geared up, I led them off initially trying to link uphill onto Main Range Road (MRR) but we were thwarted by a big fallen tree.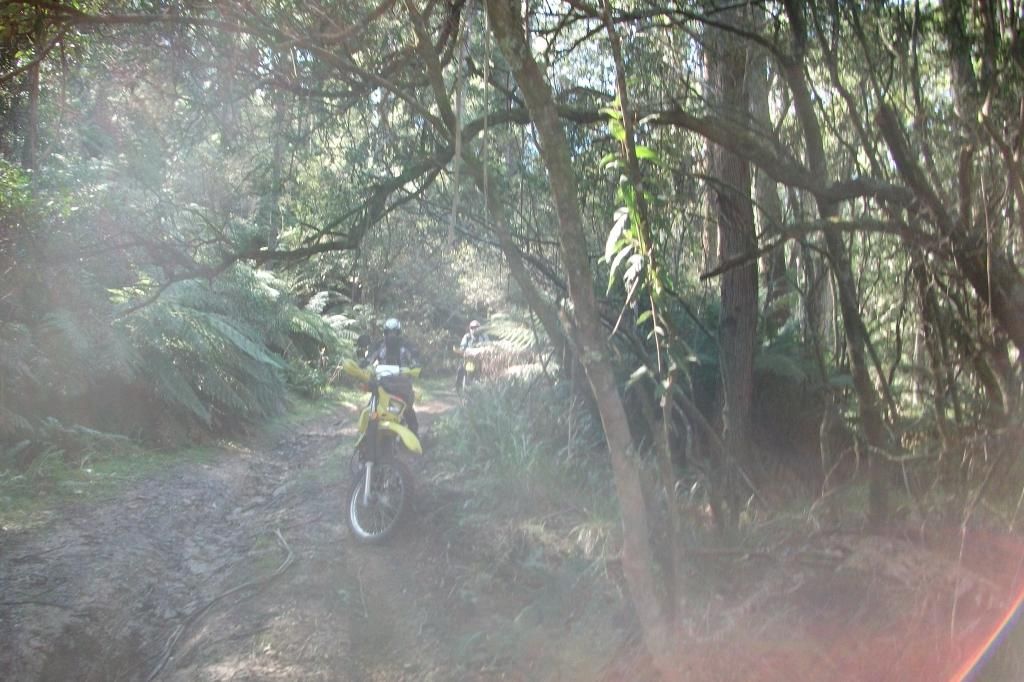 We had just scaled up towards MRR
And were confronted by this
We backtracked and I led them down Coxes Creek Road (CCR) and opted for another uphill link to MRR but this time we were thwarted by a heavily rutted and slippery section, so we backtracked again to CCR. We followed this and passed under Mt Cronin 913m before I turned us east on Kayes Road and across to McCurleys Forest Road (MFR). Next thing a Roo bounded out and almost skittled me
. I braked and it vanished in three leaps into the pines. We turned south on MFR for a brief stint before I turned west and we climbed up a winding road past hill 967m. We paused to take in the vista east and were watched by a vivid Red Robin.
On reaching MRR we turned south. After passing Mt Jiaero 1166m I opted for another easterly descent across CCR which ultimately turned to grass and a deadend. I had difficulty in turning around as did Felix who dropped his bike and thus christened his brand new barkbusters and B&B bash plate. Returning up to CCR I saw a cute Echidna going about its business. I opted for a mid range travers and we exited onto Harolds cross Road and rode a short distance west to Foxlow Gap and took Rocky Pic Road (RPR) south past Rocky Pic 1255m and into Tallaganda NP passing one scruffy Wombat.
Another fine mess youve led me into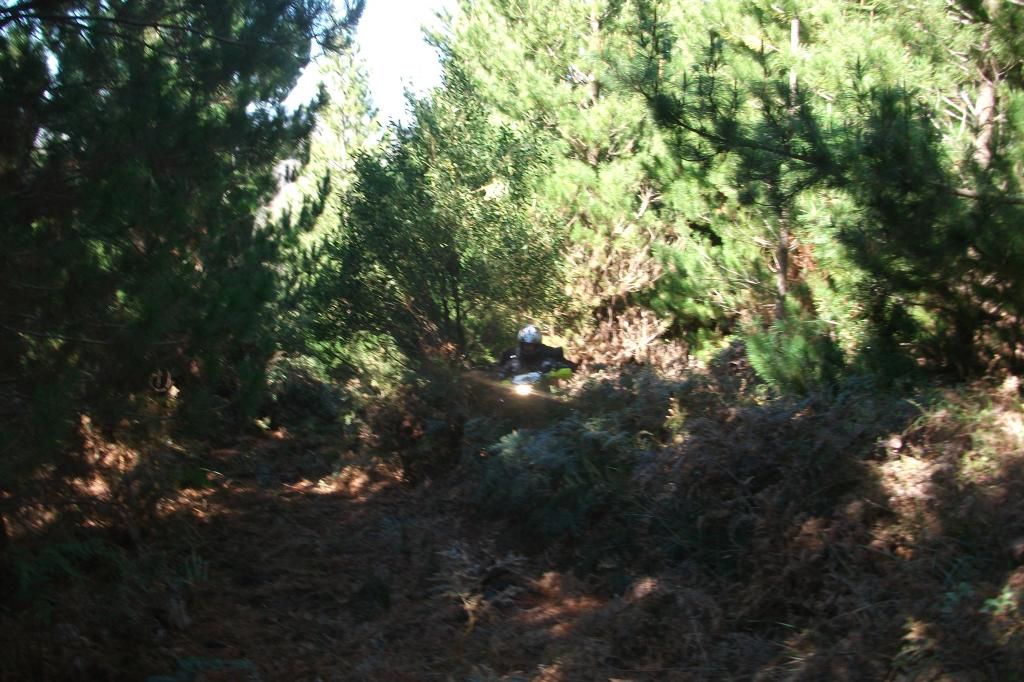 A slippery dead end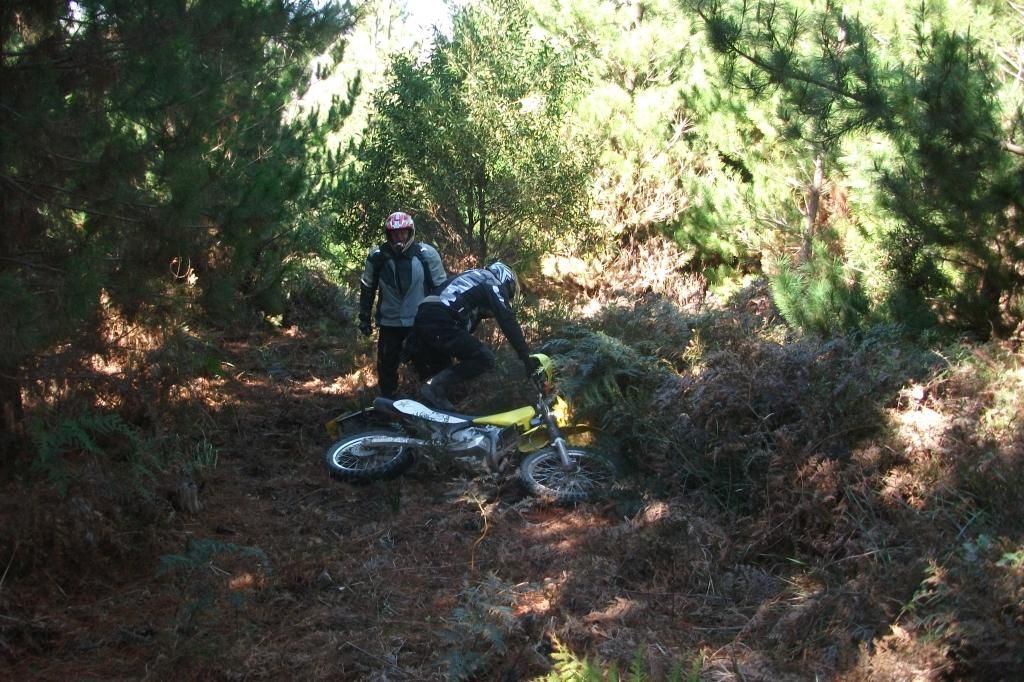 Oops!
A helping hand
Exiting back onto CCR
The riding was great with only a little dust. We were all getting a little air over the swales
. At Parkers gap we paused to consult the NP Map Board and decided to take Cowangerong FT south and Baz led off with me as sweep. The swales were getting better and some were quite acute which tested our suspension. Nearing hill 1279m Felix ran a bit wide on a sharp LH uphill and I didn?t change down in time and was caught out by a swale stalling on its face. So I skidded backwards and did a swan dive.
This gave me a start and I was not sure which way to go when I was confronted by Tumanang FT going off to my right and westwards. I opted to continue straight on and shortly caught up to the others who had stopped at South Forest Way (SFW). I gave them a brief update pointing to the dirt on my LH barkbuster.
South Forest Way
Baz led us north and we encounterd a few parked 4WDs collecting firewood. SFW was nicely graded and Baz had vanished up ahead while Felix and I took the blind corners gingerly in case of oncoming traffic. We paused at Captains Flat Road and not being familiar with this area I opted to lead us back to RPR and north. We were travelling at a good steady clip and I saw a second Echidna braking to avoid it.
Back at Foxlow Gap we had a time check and it was decided that I should lead us a circuitous route back to HQ. So we went briefly east on Harolds Cross Road before turning north on MFR encountering two other riders seeking the evident STs. We turned north on Oldf Northern Road and joined LR for the last kilometre to HQ. HQ was alive with a half dozen returned riders loading hteir trailers. I recognised two of them and had a brief chat with them before I refuelled my bike a nd exited for home to wvoid riding in their dust. Baz and Felix caught up to me near Yamba Drive. I covered 140kms (including transit) in 6 hours.