On Sunday I rode my DR-Z250 over to Bilz and assisted him to load his and Felix?s DR-Z250s onto his trailer. I then rode out to the Hoskinstown RFS and awaited their arrival. Once geared up Bil asked me to lead Felix and he on a decent ride.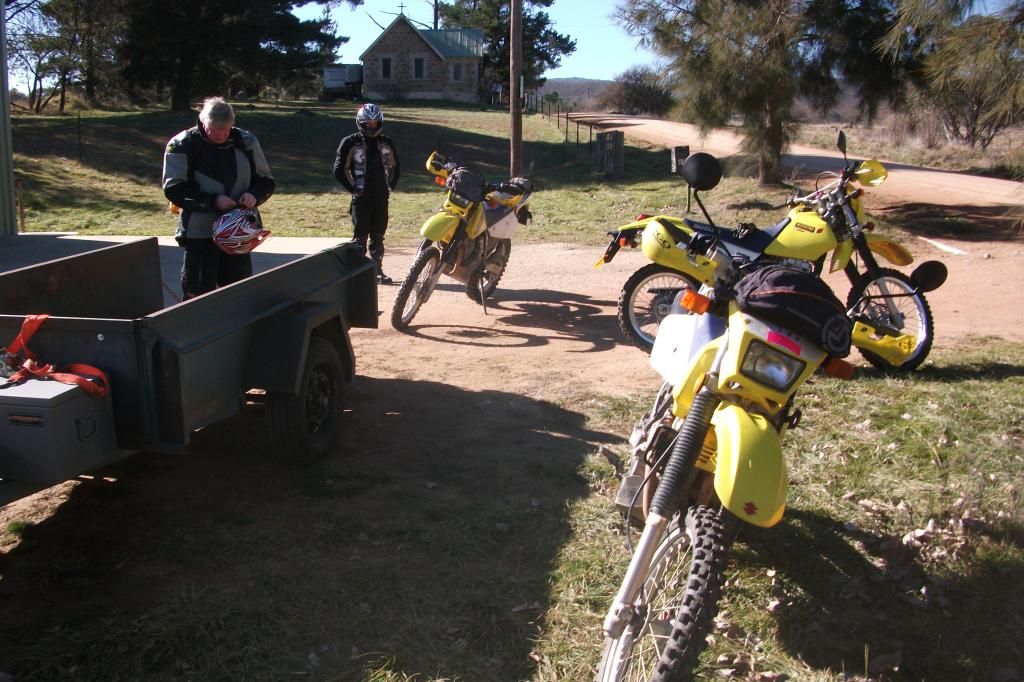 Bil and Felix
I led them up Forbes Creek Rd with the little ST descent and then on towards Tallaganda North. Enroute we were overtaken by three other riders
each with GoPros. We turned south on Bald Hill FT and followed it to intersect with Lowden Trig FT and another trio of riders came past us in the opposite direction
.
Felix and Bil
We paused near Forestry HQ as it was quite chilly. I lent Felix my MX gloves to act as liners inside his gloves. Another two smokers came by and took to LT FT and a youngster rode up on his small MXer. We then headed off east on Lowden Rd and north on Jinglemoney FT and north again on Bombay Trail where we got some air
over the swales.
We then headed west on Mulloon / Hoskinstown Rd and took the ST across to Butmaroo Trail This sector was slippery and had a few limbs down so there was some brief excursions to get around them. It was then west and south on Gourock Range Trail where the stony track had us ricocheting left and right
on the ascents.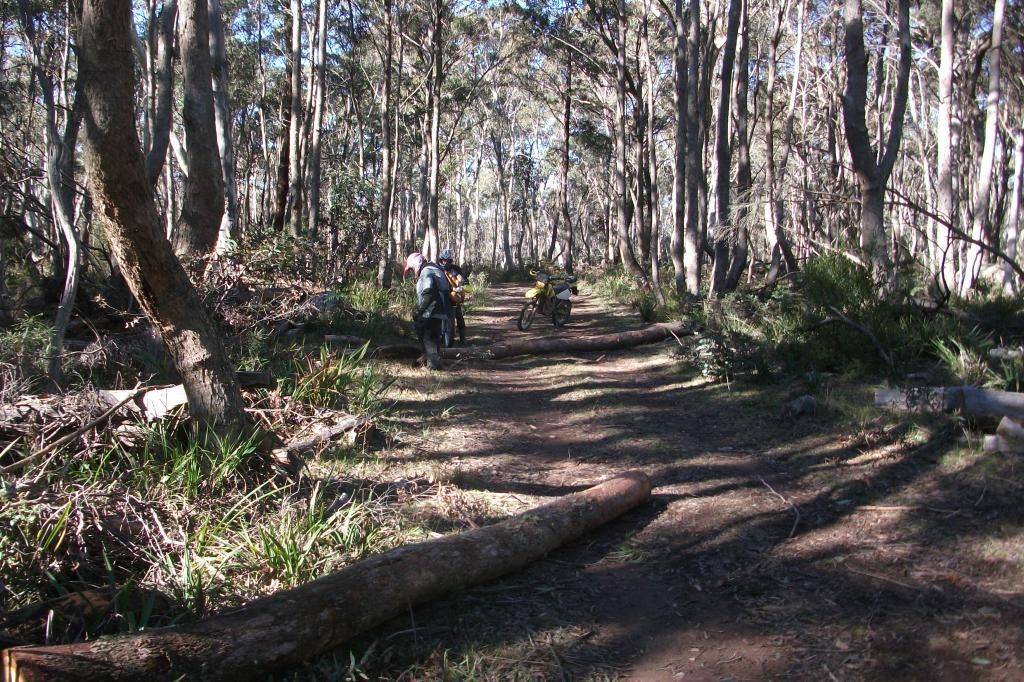 Inspecting the logs
We then had an easy ride SW on Mulloon FT past ?Ralpine Valley? and up to Black Range Trail where we turned north and I was bouncing over the large granite boulders in the track. There were trees down at the turn west to ?Karabiyal? but we managed to get over and around them.
Felix
Bil
At one point I couldn?t see anyone behind me so I stopped and after a while backtracked to find Felix and Bil. Felix had had a fright that he had lost his phone but Bil was sure it was in the car back at RFS.
So Bil led Felix and I back via Old Mill Rd and I had anothe crack at the short ST uphill before returning to the car where we packed up and I led us off back home.
A great 3hr >75km ride in pristine conditions for Felix?s 1st Tallaganda outing.
__________________
Gus
08 DRZ400E yellow for more fun since 2016>
05 DR650SE blue for adventure since 2012>
08 DRZ250 yellow for endure since 2010>
05 CT110 red for learning since 2008>