This may be a bit long winded and boring for those that have done Finke, but I have focused it to be informative to those that want to do it for the first time.
Preparation.
I spent a far bit of time working on my fitness for 6 months prior to the race. I didn't go over the top, but by the time I finished I was riding the treadly 15-20km about 4 times a week and was doing 30mins a day 3 times a week, on cardio and core strength. I wish I had done more core strength, as that is what let me down in the race. My lower back got so sore in the woops, that I had to slow down.
The bike had about 120hrs on it and I was worried about its reliability, so I did a complete rebuild on it, replacing transmission bearings, crank, piston, valves ect. It was a big job, but very satisfying and gave me a 'peace of mind'.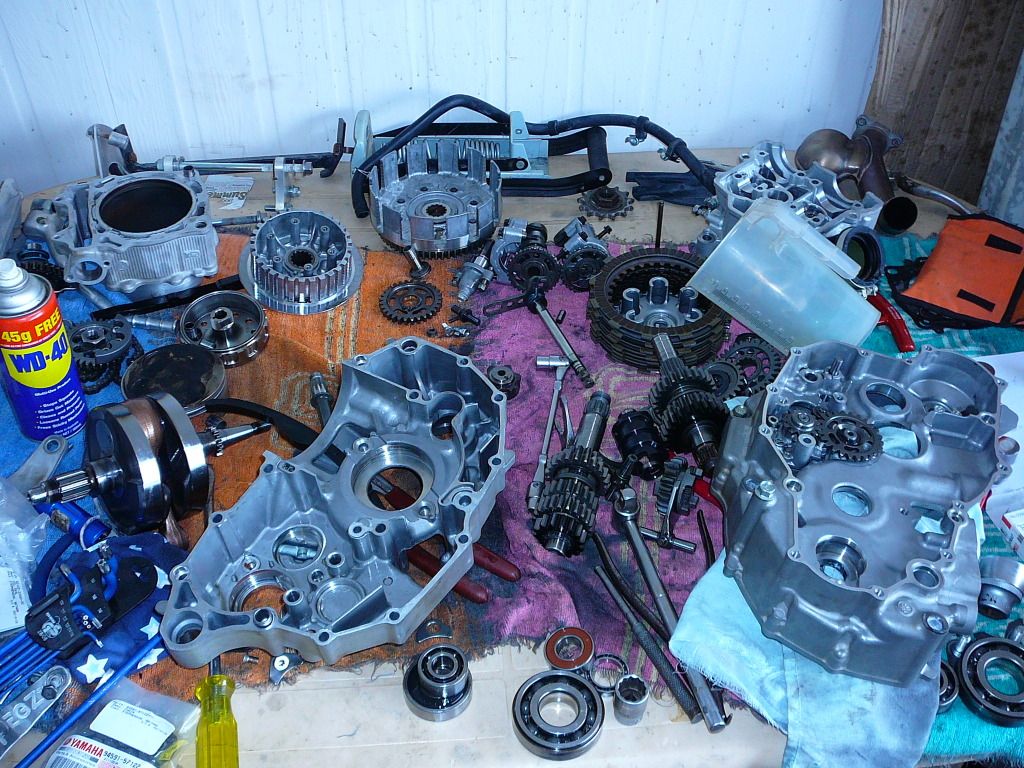 The trip from Goondiwindi to Alice.
The first part of the trip was 700km out to Hungerford to meet up with the old man. One of his dreams was to do Finke but never did it. So I guess I was doing it for both of us. We were taking his ute so once I got out there we spent the day packing all my spares and our camping gear for an early start the next day.
Neither of us could sleep so we got away at about 3:30am which was good because the first 400km was all rough dirt road and we could only average about 60-70km/hr (broke 2 tie downs on the bike). We only got a bit over 1,100km for the day and camped at a rest stop near Port Augusta.
BP at Port Augusta.
The next day we made it to Kulgera. It was only around 1,000km but we stopped in and had a look at Woomera Missile Park and I brought some Opal earrings for the misses from Coober Pedy (to keep her on the good side for next year). We camped on the road between Kulgera and Finke that night.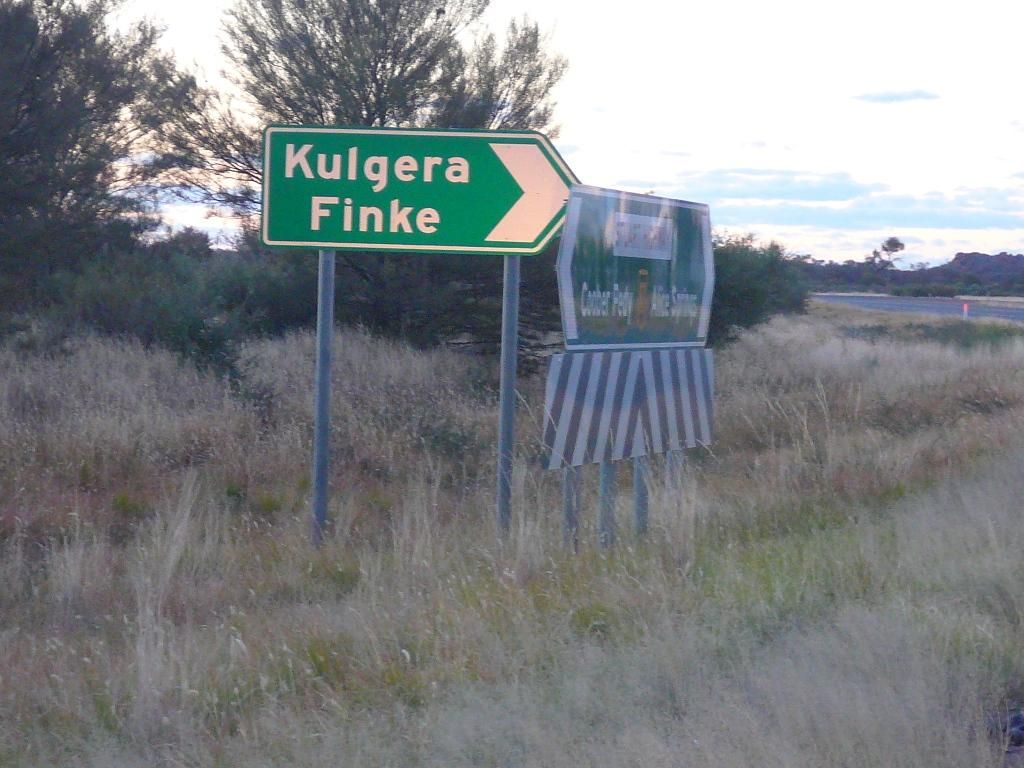 Our primative camp between Kulgera and Finke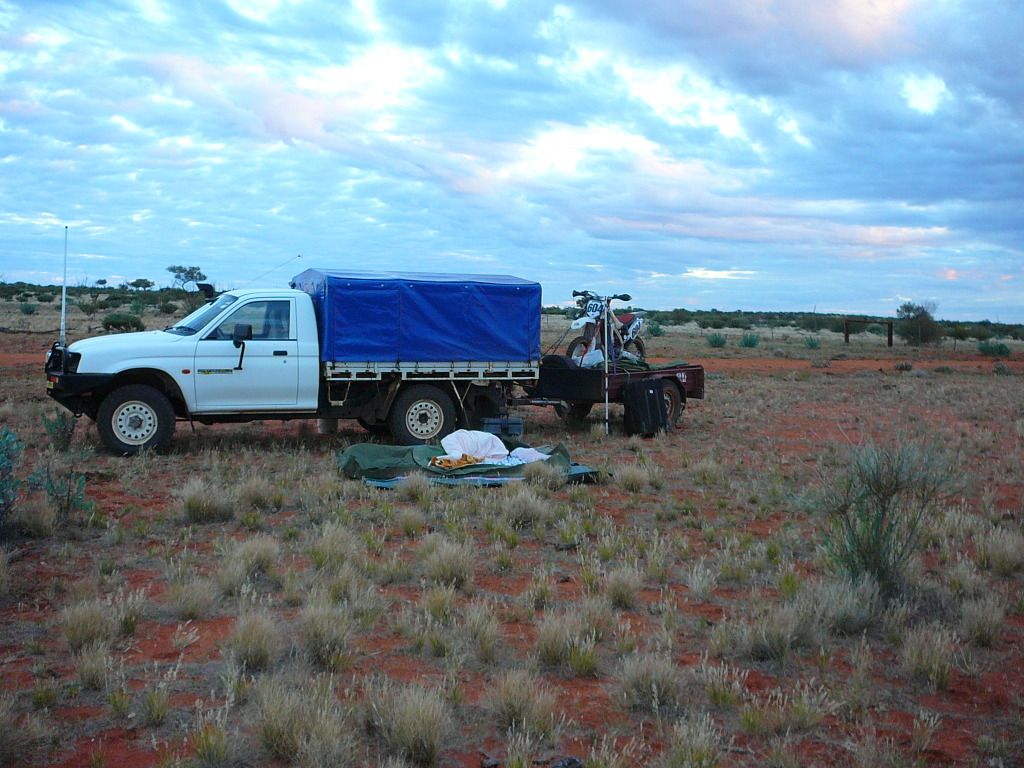 Pre-Running the Finke track.
The next morning I was so excited! I was finally going to ride the Finke track! As we drove into Finke, we discussed if we should have a look around the town or not. We got a few "Dark" looks and decided we might just go straight to the track and get ready for riding after 12pm. (There is an unwritten rule of pre-running that you ride south before 12pm and north after 12pm. I was very surprised that even the ******s seem to obey this.)
Within the first few km's, I was turning the MSC Steering Damper up from 4 to about 6. That seemed to stop the handlebars from jumping out of my hands on the square edged bumps.
I rode from Finke through to Alice with the old man as my fuel crew. I just "trail-rode" it and did it in 3.5 hrs (well within the required 4 hrs). I highly recommend doing this before the race to anyone that hasn't been before, so you get an idea of distances between fuel stops and how the track is set out. Pre-running small sections of the track could get confusing.
The big Jump-up just as you come into Finke.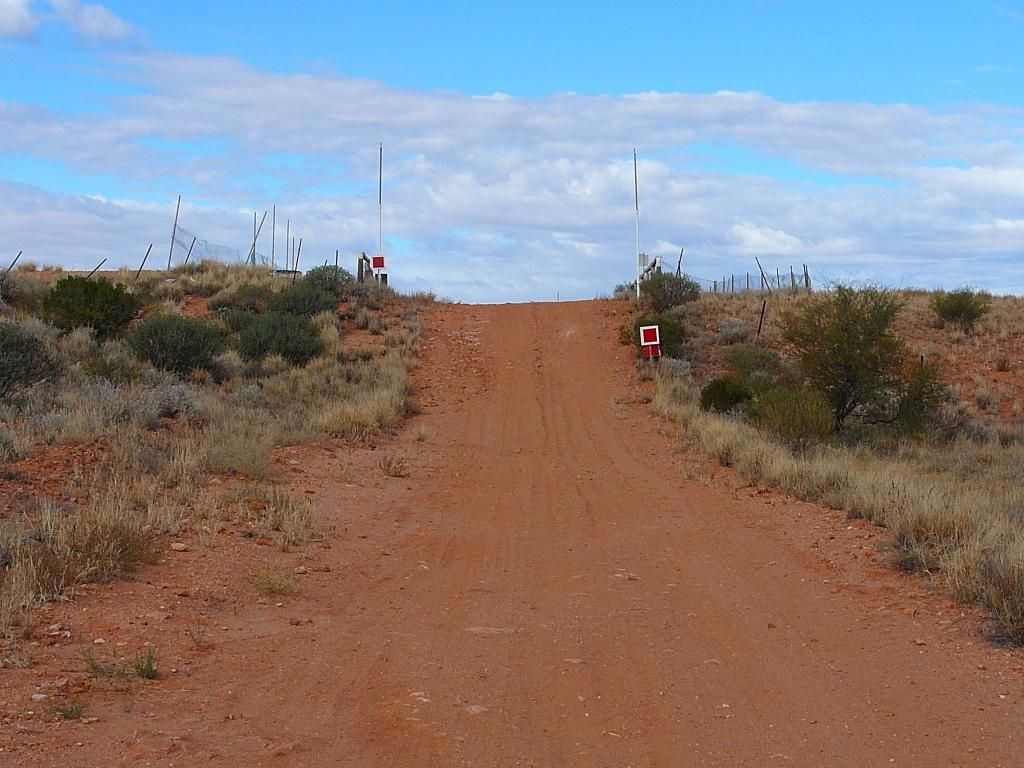 Bundooma. 140km mark.
Woops at Bundooma.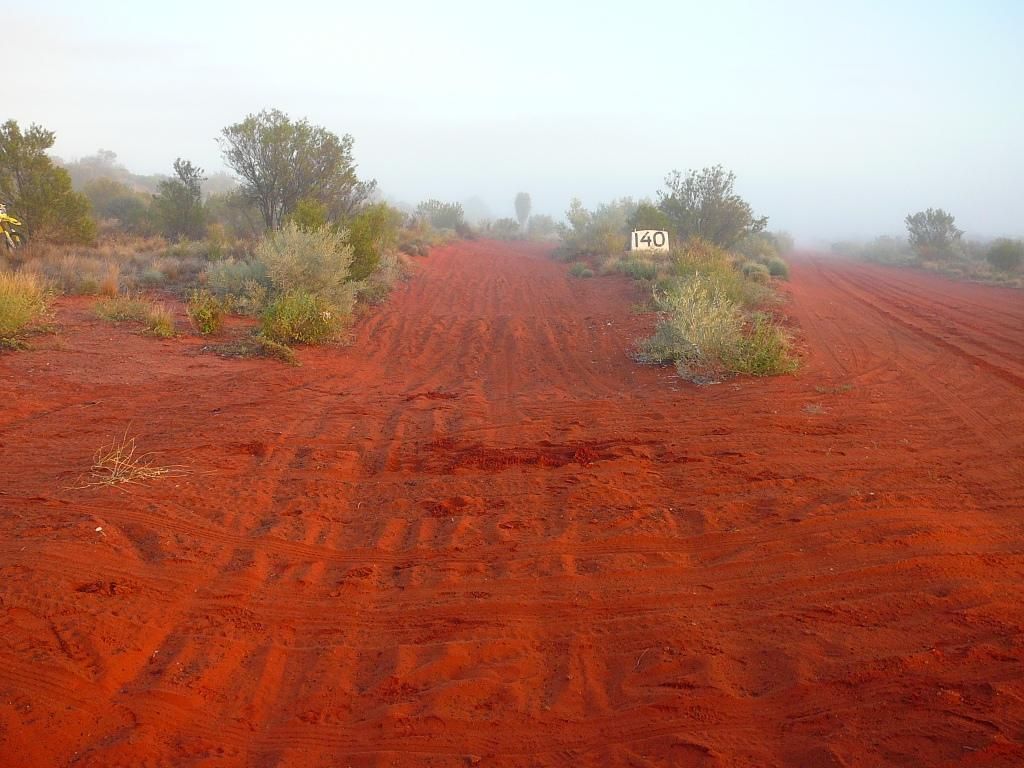 I had the 12L tank on and rode from the halfway club refuel, to Alice with 3L to spare in the tank. I was tempted to miss the first fuel stop on race day 1, but I thought it was possible to use an extra 3L at race pace and I didn't want to DNF for something as stupid as running out of fuel. The club stops ended up being quite quick and I probably only lost 1-2 positions at them anyway. I got them to only fill it to about the 8L mark each time, as I knew this would get me to each fuel stop and keep the bike a bit lighter.
I was going to run 15/45 gearing, but after pre-running with 15/49 I decided to stay with that. It gave me more grunt in the woops and there was only a couple of times during the race that I was looking for another gear.
40km Jump.
We got to Alice and set camp at my cousin's place. He has 5ha on the south side of town and only 5 mins from the start-finish line. Because both my cousin and his fianc'e are cops, and living out of town, there was no chance of anything being stolen. It was perfect.
I did a total of about 800km of pre-running, which was even more fun than the race itself (no dust). It certainly helped me to get to know the track and learn how to "surf" the woops.
I belive the organised pre-run is a bit of a waste of time. It cost $49 for the permit and people were riding all week anyway. My cousin even came out with me for a ride and he is a cop as I mentioned. They have more important things to worry about.
I met RYAT21 and PRIOR525 while pre-running. Both are great blokes (but they ride bikes and race Finke, so of course they are great). KTM400 stayed with me at my cousin's place and the overnight stop at Finke. He's a top bloke and would do anything for you. Good with electronic gizmos too!