Ah, so, um... I bought this on an impulse on Tuesday - it was advertised as an 1988 model and I am worried that I did the wrong thing by selling my '88 KX250 - that my '88 KX125 won't be enough to keep me even vaguely competitive in the Retro MX series this year.
Being an '84 model makes it eligible for the Retro series, and also eligible for the Heaven VMX series - so I bought it.
(Further excuses include the bit where they're the best and most modern feeling pre-85 MXer, my '84 KX125 project might not be ready for the Post-Classic National Titles in late March and the 250 will be a better choice for the Harrow Vinduro).
Oh, and not to mention the uber-ferals I bought it from - I kind of felt like I needed to save it...
I got it home, rode it around the back yard a few times to make sure there were no major dramas, and then stripped it down. Typically, I forgot to take "before" photos - suffice to say, it was an ugly but complete, running bike.
Frame went into the bead-blaster at work. It turned out to be a bloody good frame - not perfect, but way better than most 28yo dirt bike frames with no cracks, no dodgy threads and really only a minor dent in a lower rail to bother mentioning.
Here is it, just after being painted (note the ultra-expensive, pro-level paint booth):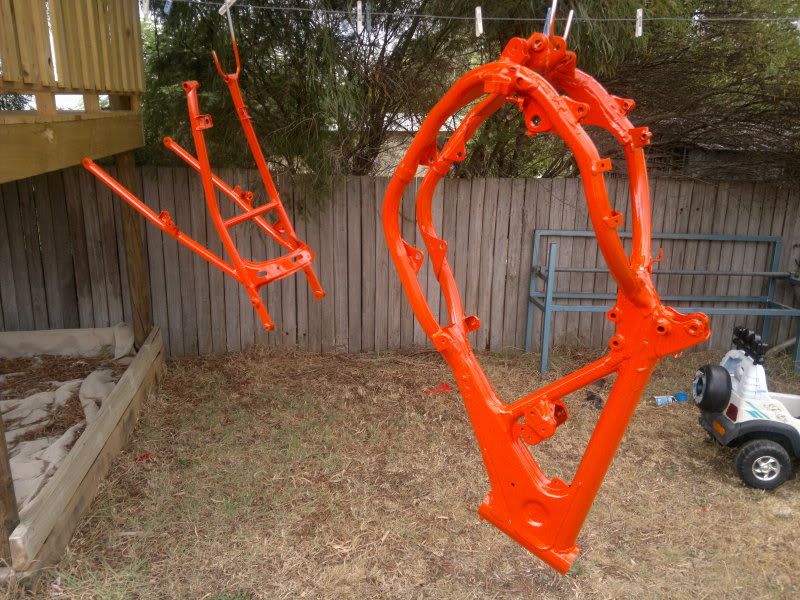 The only thing surer than death or taxes is old Hondas' magnesium clutch covers being corroded out. This one was pretty good really, with only two pinholes into the gearbox oil.
This is my fix - keep the magnesium and the water
completely
seperate from each other, using litres of JB Weld - same approch seems to be working with the KTM125. The seal was almost new, so I've tried to save it - time will tell.
Obviously, the repair is not quite finished, but you get the idea.
(There was a good, used clutch cover on Ebay a few months back - it ended up selling for significantly more than I paid for my whole bike...)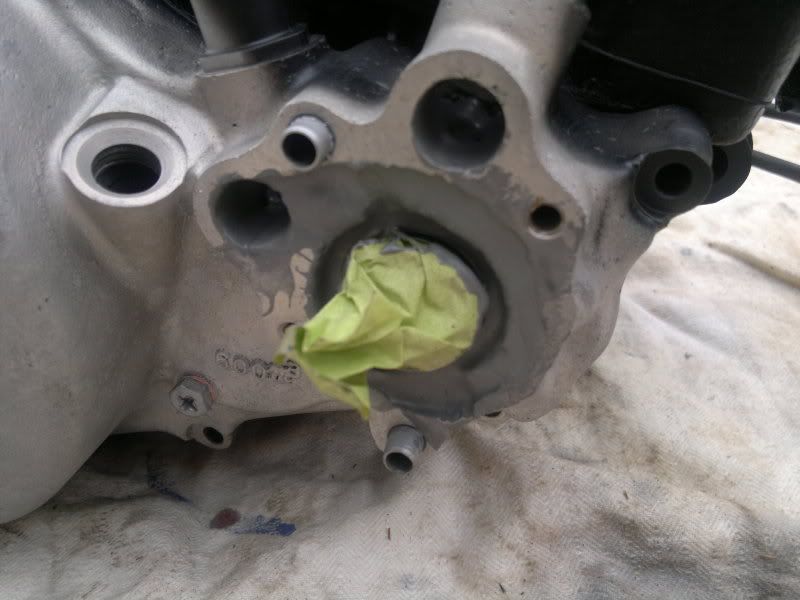 The clutch basket is good, the compression is good, and there's no slop in the main bearings so I'm leaving the motor alone for now.
I spent the last few days of smoko/lunch time absolutely busting my asre on the bike - my boss commenting that I'd be able to go home early if I worked like that all the time. If I worked like that all the time, I'd be dead within a week...
Anyhow, this is the pile of bits that are basically ready to go: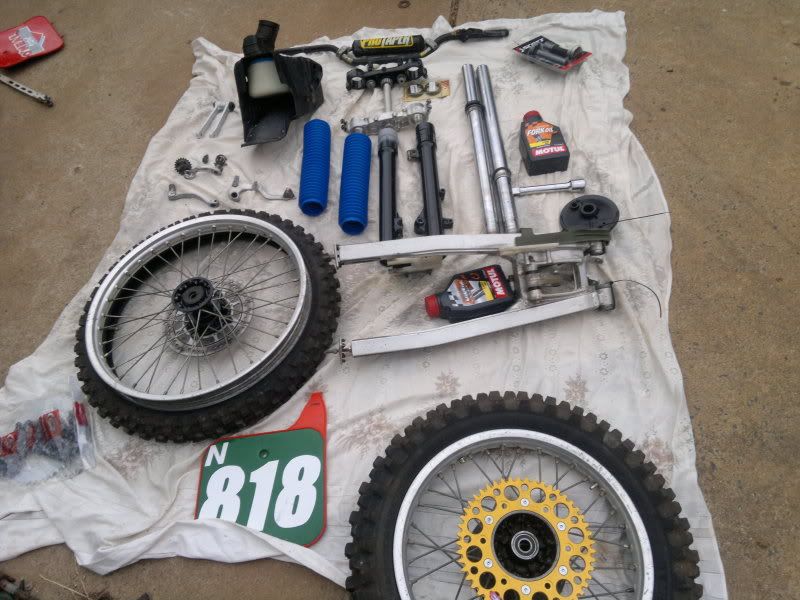 The front hub had been painted silver, so I pulled the wheel apart to repaint the hub and clean the overspray off the spokes.
The swing arm and linkage bearings were in amazing condition - the best I've ever seen on an old bike. One bolt was seized in it's bush, but I drilled it out.
The lower fork legs are heavily roost damaged (and looked like poop), so I painted them black like the 85/86ish works bikes. I think I regret this, but will make my decision once the bike is reassembled.
The '84 model should have black fork boots, but they look awful, so I bought blue ones.
Stupid me forgot to bring the springs, caps and damper rods home, so I can't reassemble the forks this weekend, as I had intended.
Tyres, sprocket, handle bars, air filter, grips, clutch lever, front number plate and chain were all "in stock" (ie: crap hanging around in my shed).
The pipe is not too bad, but the muffler is shocking. I can fix both, but it's ~$400 for a new DG pipe and muffler - I'm not sure whether to fix both, or wait until I've got the spare cash.
Seat cover is wrong. $50 to get a new one in the correct colour with the correct graphic - that's a no-brainer.
Tank needs to crappy too-red paint scraped off and generally cleaned up.
One other deviaton from stock is that I fitted '84 KX250 bar mounts - they move the handlebars forward about 10mm: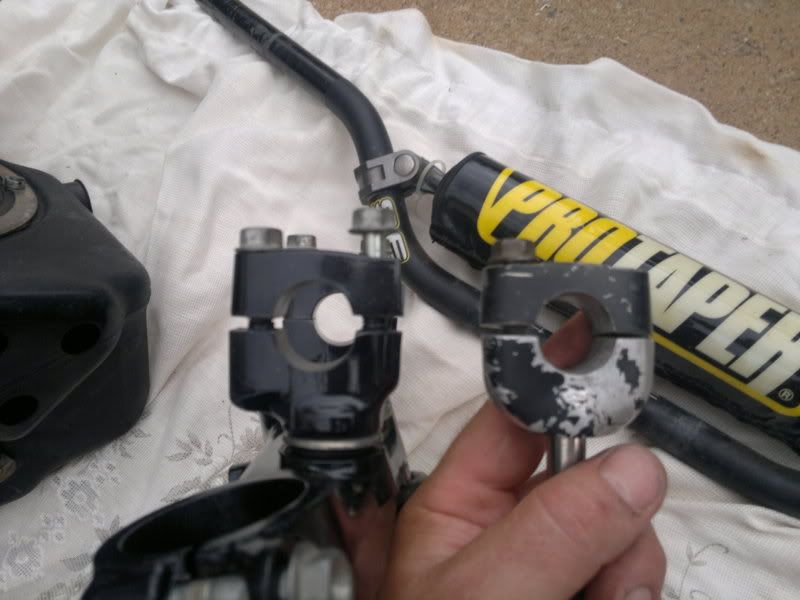 The plastics are my biggest stress from here. I can get new guards and side plates for reasonable money, but radiator shrouds seem to be impossible. The shrouds I've got are OK - I've cleaned one up fairly well, but the colour seems pretty washed out.
The side covers are both rubbish, so a new pair is pretty much unavoidable. I'm trying to work out whether it's worth cleaning up the existing mud guards is worth the time/effort, or whether I should just buy the new bits.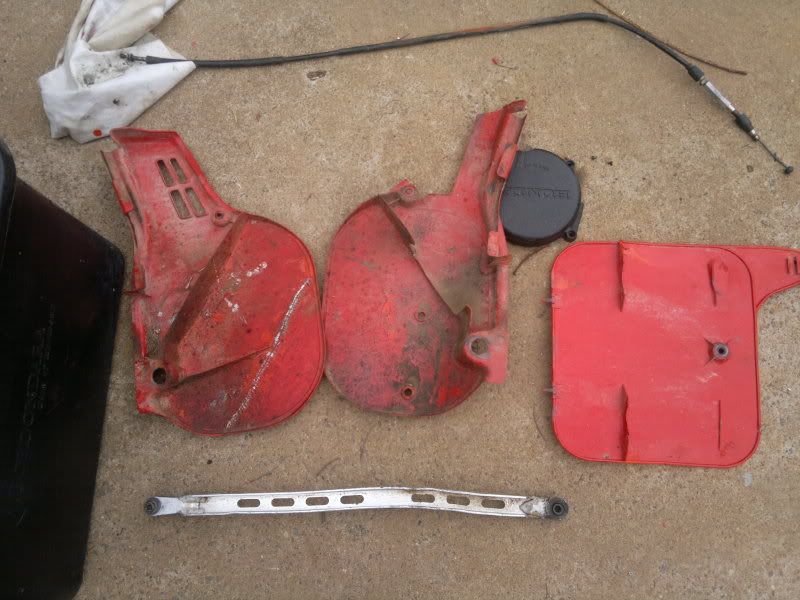 I've also got to rebuild the rear shock - easy enough job, I'm just waiting for the new seal head to turn up.
I'm hoping to keep the total outlay to under $1500. More updates as things happen/as I work out how to get photos from my phone to the PC... (the photos you can see were taken on the wife's phone).